The political heart of the United States, Washington D.C. offers endless possibilities to foodies, history buffs and art lovers. It's the perfect place to spend a weekend and is surprisingly affordable, considering museums are free in the district with exception of a few like the National Geographic and International Spy Museum. I recently spent 48 extraordinary hours there, and I know that I will be back soon for more.
FRIDAY
First stop was checking into the Renaissance Washington, which I knew would be comfortable and centrally located for our travels around the city via subway, car or taxi on Friday afternoon. I was struck by the welcoming and spacious lobby area. It may be a large conference hotel, but the lobby has been designed with intimate relaxation areas where you can sit and enjoy a drink while plugging into the free Wifi. Renaissance Washington recently finished a $30 million renovation. Guests can enjoy art capturing the city's history in the lobby and in the rooms.
My room was spacious and very modern with a sitting area, work space and comfortable bedding. Prior to arrival, the hotel had sent me links to their navigator program, where hotel staff (or "navigators") personally select places to savour, sip, shop and see that they believe will enhance your visit.
After settling in, I decided to stroll around the neighbourhood to get my bearings and shoot some photos of landmarks. It's been decades since I last visited Washington I was pleasantly surprised to see how European the landmarks and buildings felt. My desire to photograph all these places kicked in. I had planned to go see the International Spy Museum but after seeing the line ups to go into this place, it was time to keep walking.
6:30 pm: After my nephew arrived, we took the subway from Chinatown and headed over to the U-street corridor for pre-dinner cocktails at The Gibson, a 21st-century speakeasy.
The entrance to this establishment is non-descript and small writing on the left side of the outside wall indicates you are at the right place. Known for its dark interiors The Gibson has some of the coolest cocktails available for imbibing — whisky sours, fizzes and other creative concoctions. My favourite was the Delores — George Dikel Whiskey Domain De Canton, Drambuie, lemon juice and Honey.
Tip: Make sure to have a reservation, without one you will not get in. There is only enough room for 48 people; once your two hours are up, you have to leave and give someone else your table.
8:45pm: We decided to visit Jaleo, with its colourful and festive atmosphere luring us in. Each tapas dish passing by increased our hunger as we sipped Sangría De Vino Tinto and waited for our table. You have to see the bathroom that has beaming faces peering up at you from the bathroom floor — it's a cool idea, but a little unnerving.
Tip: Be prepared to spend a bit here! Jaleo has become a tourist mecca. This is a great place for drinks, but bypass dinner == it's simply not worth the high prices.
SATURDAY
9:00 am: Eatonville Restaurant, named after famous African American writer Zora Neale Hurston's home, exemplifies southern cooking and hospitality. We were the first to arrive and had a unhurried look around great art tributes adorning the walls. The menu is down home southern cooking, Scrimp and Grits are served with Andouille sausage, jalapeno heirloom grits and smoked tomato beurre blanc. The buttermilk biscuits are to die for! The Callahan selection with fried chicken breast with jalapeno-sausage gravy is another great choice to experience southern cooking at its best.
10:30 am: Lovers of photography and national geographic magazine have to visit the National Geographic Museum. The museum is small but the content of exhibits and photography very rich. We purchased tickets ($12) for two exhibits: "A New Age of Exploration" and the "Real Pirates: The Untold Story of the Whydah from Slave Ship to Pirate Ship." As you enter the exhibits, you are greeted by wall covers of National Geographic magazines from past to present — a mesmerizing sight to behold.
Tip: During the weekends there are children's events.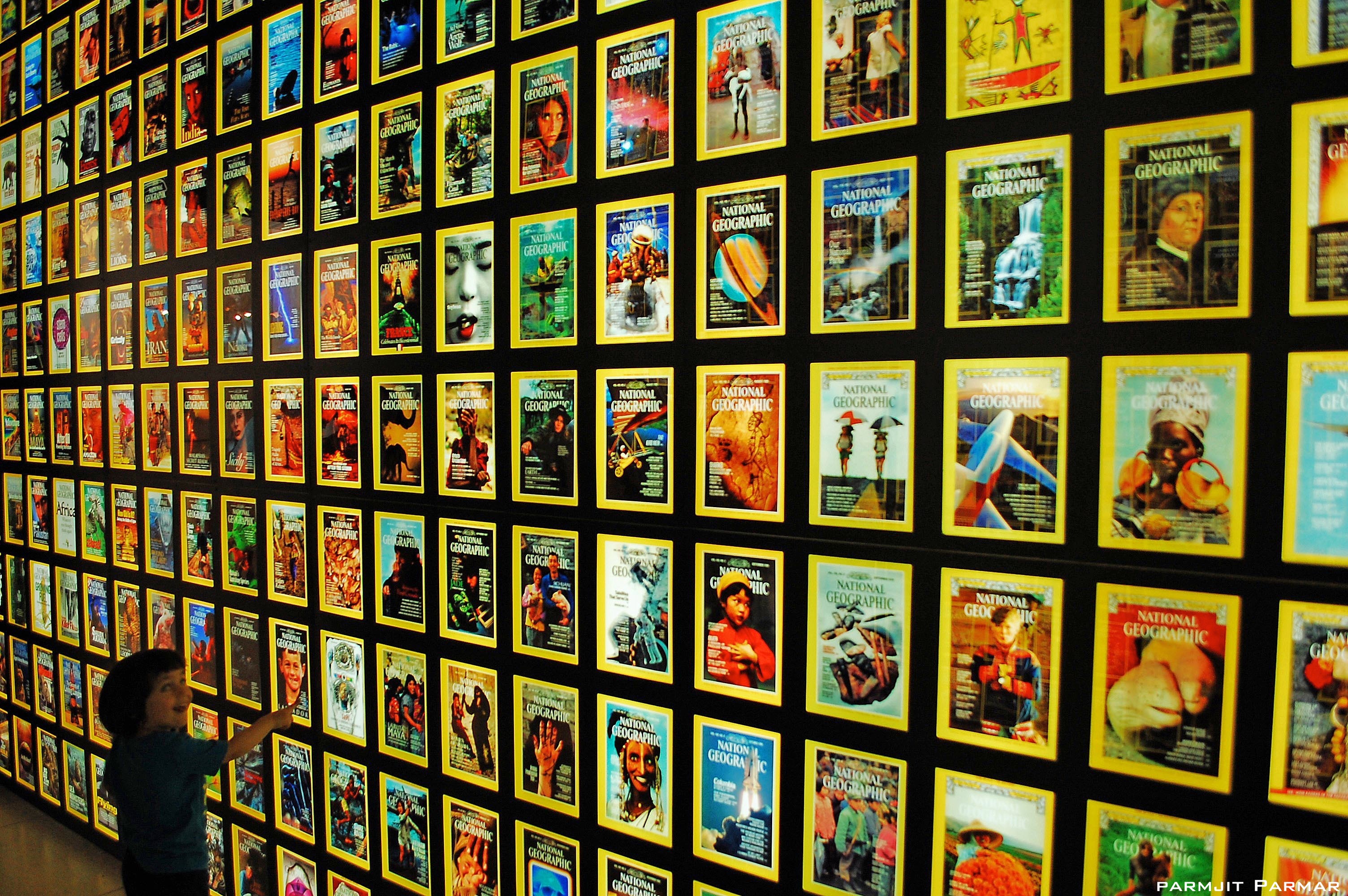 1:30 pm: New Columbia Distillers LLC makers of Green Hat Gin was one of our major discoveries on this Washington visit! It's the first micro-distillery opened since Prohibition by co-owners retired lawyer Michael Lowe and son-in-law John Uselton. We stopped by for a tour and tasting. John Uselton explained the history of how the Gin got its name from DC's most famous bootlegger from the 30's – George Cassidy, who wore a green felt hat. We loved the flavours, especially of the summery new Green Hat Gin.
2:30 pm: No visit is complete to Washington without a stop at the landmark Ben's Chili Bowl, which opened in 1958. Its played host to just about every president, including President Obama, and every visiting celebrity. Original African American artwork adorns the walls of the restaurant. We ordered the Chili Half Smoke which is a warm bun with a smoked hot dog and topped with fixings (lettuce, tomato, pickles and hot peppers) and covered with chilli — Bill Cosby's favourite. It was absolutely delicious.
7:00 pm:Barmini Cocktail hour. Overseen by Juan Coronado, mixologists create some of the most interesting cocktails to sip and savour at this trendy Jose Andre lounge. You can order drinks from the menu — or tell your mixologist what you have in mind and let him surprise you with a tasty cocktail. We decided to go both routes, my Gin Gin Mule was good, but a second drink created by our mixologist was much more potent and satisfying. If you choose to eat there is a small plates food menu to accompany your drinks .
Tip: A reservation is necessary to get in.
8:00 pm Birch and Barley is a DC culinary favourite featuring 55 varieties of beers. The atmosphere was comfortably festive and our server was incredibly knowledgeable about the dishes and flavours. We shared a Butcher's board of house-made charcuterie served with mustard and cornichons. Each table is served the house-made breads which are divine. I chose a small plate of melt in your mouth tagliatelle with chicken and spiced with curry and cooling yogurt. My companions had perfectly seared flank steak and the famous Brät Burger Beer-Braised Sauerkraut, Emmenthaler with delicious hand cut fries.
SUNDAY
10:00 am: The morning started out with quick breakfast eggs and freshly made Beignets from the Founding Farmers restaurant – which has been labelled as DC's most eco-friendly restaurant with is sustainable practices and leadership in the farm-to-table movement. Completely sated we drove to the Smithsonian's Hirshhorn Museum and Sculpture Garden. The Hirshorn is a must-see for anyone interested in modern and contemporary art and sculpture, featuring one of Washington's best collections.
Tip: One important lesson learned — don't drive to the Smithsonian, parking is impossible to find.
1:30 pm: If you are a connoisseur of fine chocolate then a visit to Fleurir Handgrown Chocolates is mandatory. Robert Ludlow is the artisan who makes these beautiful chocolates, his wife Ashley manages the day to day operations and marketing. Fleurir has now started offering their own flavours of Ice Cream just in time for the summer heat.
2:30 pm The Park Hyatt Tea Cellar has one of the most impressive tea collections I've ever seen! The tea collection features some very exotic and rare teas from remote regions of China, Japan, Sri Lanka, and the Himalayas. Teas are kept in a glass humidor to store, display and age the tea properly. A seasonal, sweet & savory tea table buffet is available to accompany your tea. Prices vary from $6 to $300.
Tip: The hotel also houses the famous Blue Dark Tavern where the Obamas came for one of their date night dinners.
It's impossible to see everything in one visit. Do make sure to set aside time to drive around and take in all the city has to offer! I've already made my list of where to go during our next visit – National Art Gallery, Tabbard Inn, Park Hyatt's Blue Duck Tavern, and Washington Monuments and shopping in Georgetown.
My stay at the Washington Renaissance was hosted by the hotel.
(published First on Huffington Post Travel Canada)