For a glimpse into Agatha Christie's Life, a visit to "GREENAWAY" is a must. Greenway House was Christie's place to relax – not work. She loved this beautiful estate on the River Dart in Devon and featured it, under various guises, in several of her novels. Now owned by National Trust and open to the public.
The house is set in a stunning location overlooking the meandering river. The grounds and gardens are superb. There's a restored peach house, a vinery and in spring all is awash with magnolia and rhododendron.
"The family were avid collectors and filled their home with memories and mementos from around the world" advised my tour guide, Sorrel Poulton, an assistant house steward. Many pieces obtained while Agatha Christie accompanied her archaeologist husband Max Mallowan on his many digs. You see these precious objects all over the house along with Tunbridgeware, silver, floral china, some of her first editions can be found among the many books.
Agatha's bedroom remains as it was. Her bags are packed as if ready to head off on another dig, and her remaining clothes are neatly hung in the dressing room. You get this weird feeling – that at any moment, she might walk through the door. The only thing out of place is her "digs" camp cot which sits in the corner of the room.
During world war two, the house was acquisitioned by US Naval intelligence as an officers' mess and would be war-room, here plans were hatched for the D-Day Invasion. I loved this cozy room and imagined the family gathering here.
During this period a U.S. Lt. painted a mural in the library (Agatha's favourite room), featuring images of the war up to that point. Christie preserved this extraordinary frieze on her return at the end of the war.
The boathouse at the water's edge I viewed when heading back to Dartmouth by ferry, was described as a murder scene in "Dead Man's Folly" book and the Agatha Christie movie, by the same name, was filmed there.
Visiting Greenway
If planning a road trip to Greenway, you must book ahead with the www.nationaltrust.org.uk – Parking is scant, access roads are narrow, and visitors are persuaded to come by boat, bus, bike, taxi or on foot – anything but a car.
There is a Greenway Ferry you can take from Dartmouth to Greenway. To get the full experience take the steam train back to Painton from Dartmouth.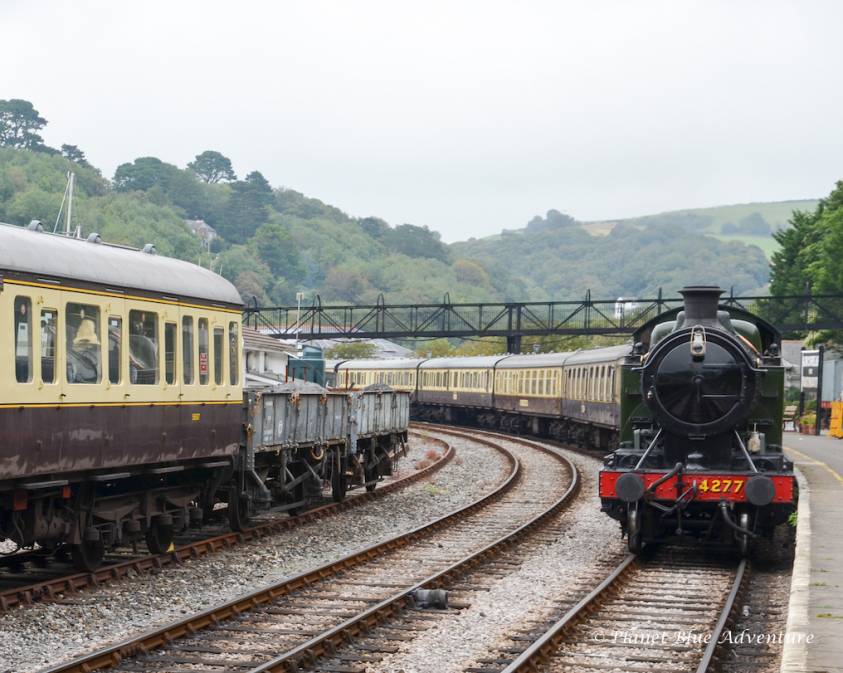 PIN THIS
Greenway House –Open 10:30-4:30, March through October 25, Wednesday-Sunday.
Admission, £8.20;  Arrival by car must be prebooked. www.nationaltrust.org.uk
Greenway Ferry – Passenger ferry service to Greenway from Torquay, Paignton, Brixham, Dartmouth – www.greenwayferry.co.uk
For more information about the English Riviera town of Torquay where Agatha Christie was born, visit www.visitbritain.com
For a list of Agatha Christie Books visit www.agathachristie.com
To learn more about what to see and do in neighbouring Dorset read Picturesque Dorset: The Main Star in Movies