In these trying times, with fewer means of socializing and inspiration, we are relying more on our dreams, memories, and imaginations; especially when it comes to travel and food. For instance, I dream of past vacations; I dream of the magnificent architecture and culture I've been lucky enough to see in Chicago; I remember dining in charming restaurants and enjoying a perfectly prepared meal.
Chicago offers an excellent food scene, famous chefs, and diverse culinary choices. Whether you're looking for haute cuisine or simply the best hot dogs or pizzas, Chicago has it all.
Try some of these recipes created by these famous Chicago chefs; get out the china, pop a cork, light a candle and enjoy.
Chef Carlos Gaytan: Tzuco, Panango, and Tales of Carlos Gaytan
Chef Carlos Gaytan arrived on the Chicago scene in 1991. He has recently opened 3 new restaurants including Tzuco, where he creates Mexican dishes with influences of French haute cuisine. He's the first Mexican-born chef to receive a Michelin star and a semi-finalist for Best New Restaurant in the 2020 James Beard Awards. The following 'papas gratinadas' is a Mexican-inspired, cheese-filled potato dish that you can re-create in your own kitchen – OLE!
Papas Gratinadas
INGREDIENTS
5 medium potatoes, peeled and thinly sliced
600 grams. Yellow onion, chopped
1 gr. Paprika powder
300 grams. Quesillo (Oaxaca cheese) or Chihuahua cheese, shredded
6 Eggs
600 grams. Heavy cream Olive oil Salt and pepper
UTENSILS
Large bowl
Whisk
Medium skillet
Rectangular baking dish or Pyrex
Spatula
Kitchen knife
Chopping/cutting board
Vegetable peeler
Aluminum foil
Steps
1. In a large bowl, whisk together the eggs, heavy cream, salt and pepper until a smooth mixture is formed.
2. Peel and cut the potatoes into thin slices. Let them rest in the mixture previously prepared (step 1).
3. In a medium skillet, add the olive oil and the yellow onion. Cook for 2 minutes and season with paprika powder.
4. In a rectangular baking dish or Pyrex, arrange a layer of potatoes, then a layer of Chihuahua cheese or quesillo (Oaxaca cheese), and finally, a layer of caramelized onion. Repeat this step once (2 layers of each ingredient: potatoes, cheese and caramelized onion).
5. Cover the rectangular baking dish with aluminum foil and bake for 45 minutes at 350ºF.
Chef Sarah Grueneberg: Monteverde Restaurant & Pastificio
Chef Sarah Grueneberg always knew she was destined for the culinary world. She started cooking, at an early age, with her grandparents on their Texas ranch and went on to win the James Beard Award for Best Chef, Great Lakes 2017. At Monteverde, her acclaimed West Loop restaurant, she creates authentic Italian dishes, including 'pesto'. With BBQ season upon us, you will definitely want to make this old-country "Genovese Basil Pesto" sauce to serve with chicken, fish, or pasta.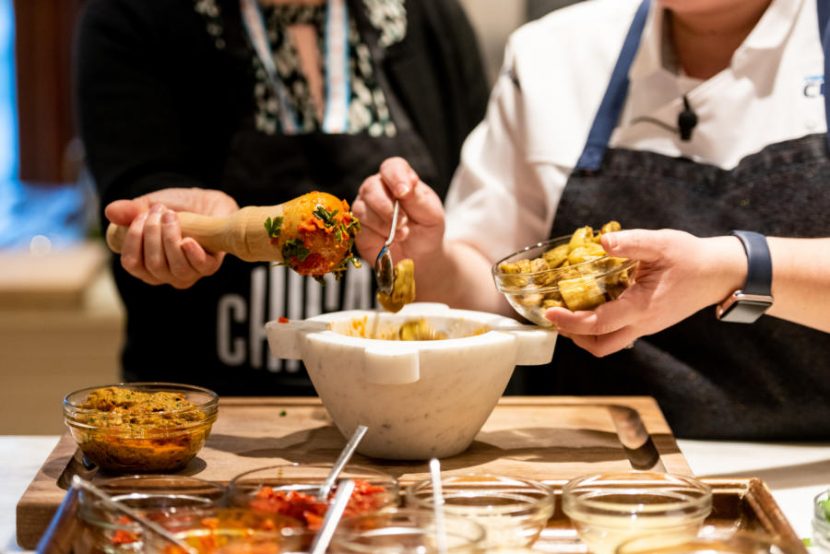 Genovese Basil Pesto
Makes approximately 1 cup
Ingredients
½ clove garlic
1/2 teaspoon flaky sea salt, like Maldon
2 cups (packed) basil leaves, preferably Genovese-style
½ cup parsley leaves, roughly chopped
¼ cup pine nuts, toasted if possible
3/4 cup fruity, mild extra-virgin olive oil, plus more for keeping, if needed
1/2 cup freshly grated Parmigiano Reggiano cheese
1⁄4 cup freshly grated Pecorino Romano cheese
Steps
In a heavy granite or marble mortar and pestle, add the garlic, sea salt, and pine nuts. Use the pestle to breakdown the ingredients. Using a sharp knife, cut the basil leaves 2 or 3 times, do not chop.
Add the basil and parsley. With a twisting motion, crush the pine nuts mixture and herbs, drizzle in half of the olive oil, add half of the cheeses and continue to press with the pestle. Repeat with the remaining oil and cheeses.
Chef Brian Jupiter: Frontier and Ina Mae Tavern & Packaged Goods
Multi-award-winning Chef Brian Jupiter grew up cooking alongside his grandmother in New Orleans. He eventually landed in Chicago where he remains true to his roots – producing down-home dishes at Frontier and Ina Mae Tavern. Inspired by closely held family secrets and recipes he creates his version of classics like catfish, fried green tomatoes, and coconut cream pie. For something truly wonderful try his recipe for 'lima beans and jambalaya'. With this dish, you can use whatever meat and vegetables you have handy.
Lima Beans and Jambalaya – Serves 4 people
Ingredients
5 cups Lima Beans
1 3/4 cup Onion, diced
1 1/2 cup Celery, diced
1 3/4 Bell Pepper, diced
2 Bay Leaves
13 cup Brown Sugar
0.5 tablespoon Garlic, minced
1 cup BBQ Sauce
1/2 cup Dijon
1 tablespoon salt
1/2 tablespoon Pepper
3 tablespoon Olive Oil
1 cup Water
Steps:
1. Saute Vegetables (onion, celery, bell pepper) in olive oil until onion is translucent and Celery and peppers have softened
2. Add Lima Beans and all remaining ingredients; simmer for 25-30 minutes
Chef Derek Dupree: Bernie's
San Diego-born Chef Derek Dupree's culinary background took him from an Irish pub in Hawaii to Le Cordon Bleu in Scottsdale, Arizona, where he completed his formal training. He has a passion for fine dining and attention to detail which he brings to Bernie's in Chicago's River North neighborhood. Here his Mediterranean-inspired dishes, including appetizers like 'hummus with lamb', delight his guests. This dip is served with pita and makes an incredible first course or light lunch served with a salad.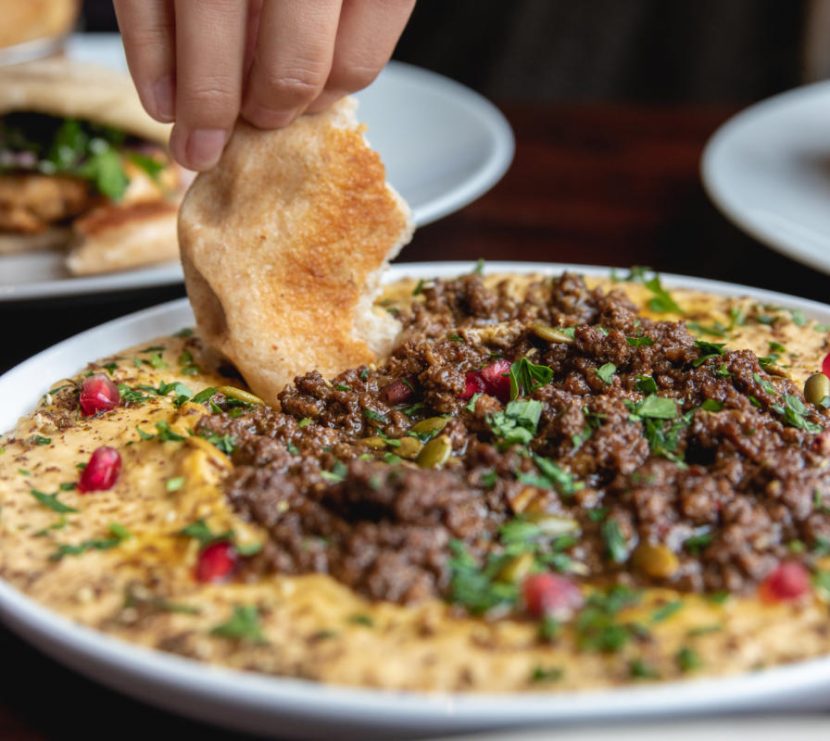 Lamb Hashwi
Ingredients
1 can chickpeas
3 tablespoons garlic
2 cups of vegetable oil
2 cups olive oil
1 ⅓ cups lemon juice
1 cup of cold water
2 cups tahini
salt to taste
2 tablespoons cumin
Roasted Jalapenos, minced (to taste for desired spice)
Steps
Hummus Preparation
In small batches combine all ingredients in a food processor. Blend until smooth using a rubber spatula to combine all ingredients. Fold in jalapenos (if desired).
Lamb Ingredients
3 lb ground lamb
½ cup garam masala
⅓ cup onion, small dice
1 tablespoon garlic, minced
8 cups canola oil
½ cup pomodoro
Steps
In a large pan, heat a small amount of olive oil and add the ground lamb. Season to taste with salt and continue cooking, stirring often.
Render until the meat has let out all of its fat and water. Continue to cook until the liquid is reduced by half and the ground meat is broken up into fine pieces
While the lamb is cooking, heat the canola oil in a separate pan. Shallow fry the onions and garlic, stirring until just golden brown. Add in the spices and toast for 1 minute.
Add the rendered lamb into the canola oil mixture, stir well to coat everything. Mix in the Pomodoro.
Cook the lamb for another 10 minutes to marry the flavors and season with salt to taste.
Strain the lamb from the oil, but save excess liquid for future use.
Spread lamb evenly over a parchment-lined sheet tray and let the lamb cool (keep the oil hot).
Once the lamb is cool, transfer to a container and pour the rendered oil over the lamb. Let chill.
Strain the lamb with a slotted spoon before plating over the hummus.
Pastry Chef Yasmin Gutierrez: Beatrix
Born in Mexico City, chef Yasmin grew up valuing the importance of hard work, spending hours making traditional Mexican dishes with her mother and grandmother. The desserts they made like Buñuel's and flan sparked her passion for sweets. She graduated from the Illinois Institute of Art in Culinary and eventually began producing pastry treats for Beatrix – bread, cakes, cookies, and chocolate delights. For a healthy breakfast treat, try her superfood muffins, packed with – coffee, almond flour, flaxseed, chia, and oats – everything you need to kick-start your day.
Beatrix's Superfood Muffins
Ingredients– makes 18 muffins
2 1/2 cups all-purpose flour
¼ cup coffee flour
4 tablespoons almond flour
2 tablespoons ground flax seed
2 ½ tablespoons rolled oats
2 tablespoons millet
2 tablespoons chia seed
1 tablespoon ground cinnamon
1 teaspoons baking powder
1/2 teaspoon baking soda
½ cup light brown sugar
1/2 cup granulated sugar
1/2 tablespoon kosher salt
1/2 cup unsalted butter, melted
3/4 cup honey
1 cups buttermilk
1 cups canola oil
2 large eggs
2 teaspoons vanilla extract
2 granny smith apples, peeled, grated and juice squeezed out
Steps
1. In a large bowl, mix melted butter, honey, buttermilk, canola oil, eggs, and vanilla extract with a whisk.
2. In a stand mixer, place all dry ingredients in the bowl and mix with the paddle attachment.
3. Slowly pour the egg, butter, honey, vanilla extract and canola oil mixture into the bowl while the mixer is running on low. Continue to mix in all liquid until it is well combined.
4. Stop the mixer and fold in grated apples.
5. Pour batter into greased muffin pans (you can use liners, if you wish) and bake at 325 degrees F for 30-35 minutes, or until a toothpick inserted into the center of a muffin comes out clean.
Are you enamoured with Chicago as much as I am. Then bring a taste of Chicago home to your kitchen.
Save this post for Recipes – Pin It.
References
If you like to cook here are a few additional posts you should visit for recipes: