Diplomatico, Reserva Exclusiva is a 12-year-old Venezuelan rum; they call it 'the Heart of Rum'. A wonderful for sipping – neat or on the rocks. The unique body and excellent balance have made this multi-award-winning dark rum a reference for rum lovers and connoisseurs throughout the world.
Distilled in small batches, mainly from sugar cane honey and molasses, in Pot Stills, then aged 12 years in white oak bourbon and malt whisky barrels.
This rum has complex aromas with notes of orange peel, maple syrup, and liquorice; with a sweet seductive finish of toffee fudge notes. The sophistication of this rum would be perfect in a classic cocktail like the Old Fashioned or Manhattan.
Following are some recipes for you to try, guaranteed to help keep you toasty during our long chilly winter.
Old Fashioned
2 Teaspoons of simple syrup
1 teaspoon of water
2 dashes of angostura bitters
1 cup of ice cubes
1 jigger (1.5 ounces) Diplomatico Rum
1 slice of orange
Instructions
Pour the rum, simple syrup, water and bitters into a mixing glass or shaker and stir to combine.
Place the ice cubes in a high-ball glass and pour the mixture over the ice.
Garnish with the orange slice and a maraschino cherry.
(The Old Fashioned is originally made with bourbon, but the sophistication of Diplomatico Rum takes this classic cocktail to another level.)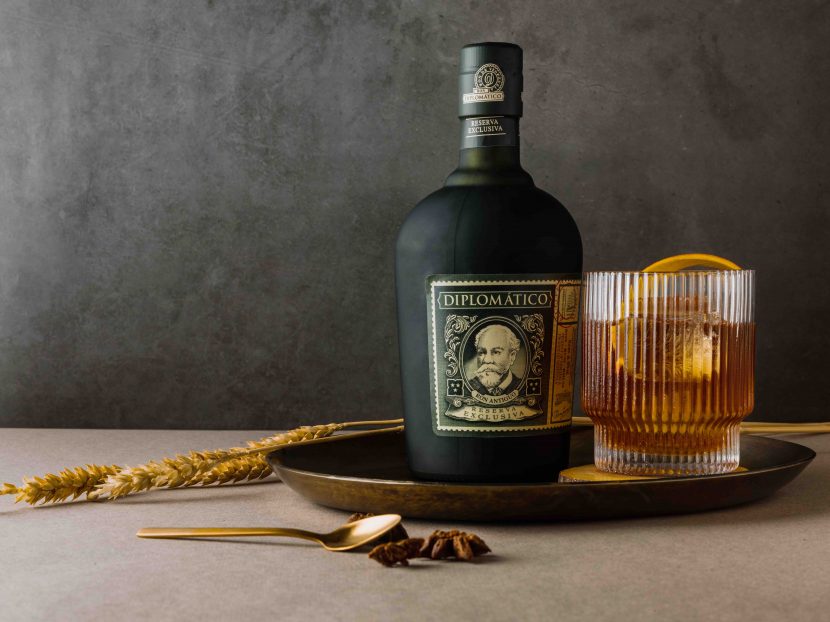 Manhattan
2 ounces Diplomatico Rum
1-ounce sweet vermouth
1 dash angostura bitters
1 slice of orange peel
1 – 2 maraschino cherries
Instructions
Place ice in a cocktail shaker.
Add the rum, vermouth, bitters and stir.
Rub the orange peel around the rim of the cocktail glass (preferably a martini glass)
Strain the drink into the glass.
Add 1 or 2 cherries and enjoy.
A few drops of syrup from the cocktail cherries are optional.
(This classic is traditionally made with rye or bourbon but the notes of sweet syrups and orange peel in Diplomatico Rum lend themselves well to this cocktail.)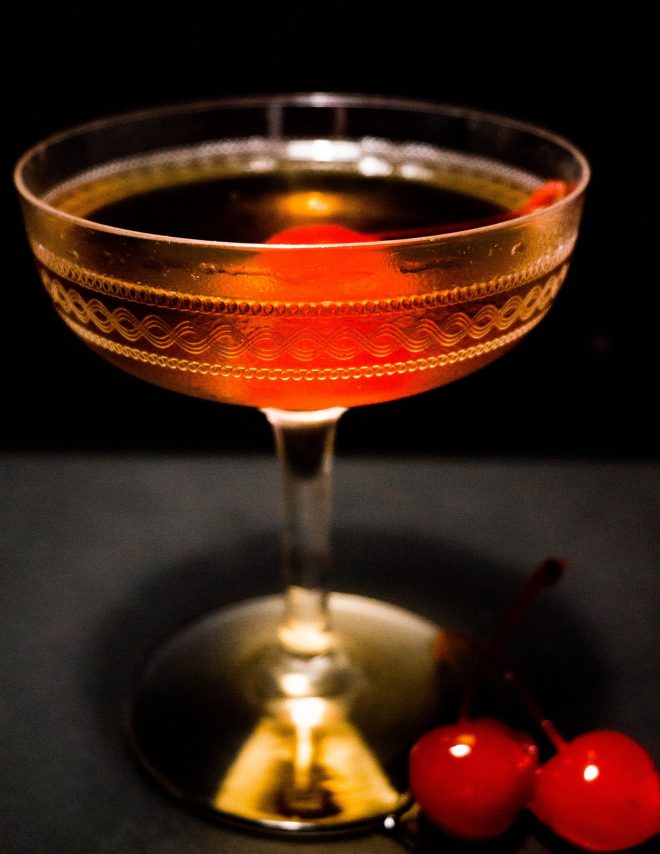 Dark and Stormy
4 ounces (1/2 cup) ginger beer
2 ounces Diplomatico rum
1 lime wedge
Ice for serving
Instructions
Fill a highball glass with ice and pour in the ginger beer.
Pour the rum on top; squeeze in the lime wedge.
Stir gently, then serve.
(Part of the Moscow mule family, the Dark and Stormy is a traditional dark rum cocktail, bold, bubbly and refreshing – a perfect late-night sipping drink. A simple twist on the classic Dark and Stormy is the following Rum and Ginger cocktail; a great drink to serve at cocktail parties or a relaxing movie evening with family or friends.)
Rum and Ginger
6 ounces ginger ale
2 ounces Diplimatico rum
Ice cubes
Instructions
Fill a tall glass with ice.
Add ginger ale and top with Diplomatico rum.
Stir to combine.
(This simple cocktail does not need a garnish but if you want one, put a slice of lime over the rim or the glass.)
Save These Recipes for Later – PIN It
Just in time for Valentine's Day try the Cupid's Bow cocktail.
Cupid's Bow
Created by Gavin Miller, Canadian brand ambassador, Diplomático rum
1.25 oz Diplomático Mantuano
0.75 oz Fireball Cinnamon Whiskey
0.25 oz Sweet vermouth
1 oz Lemon juice
0.5 oz Honey
3 Raspberries
1 Egg white
Instructions
Add all ingredients to a shaker with ice, shake until frosted and then double strain into chilled glass. Garnish with cinnamon hearts.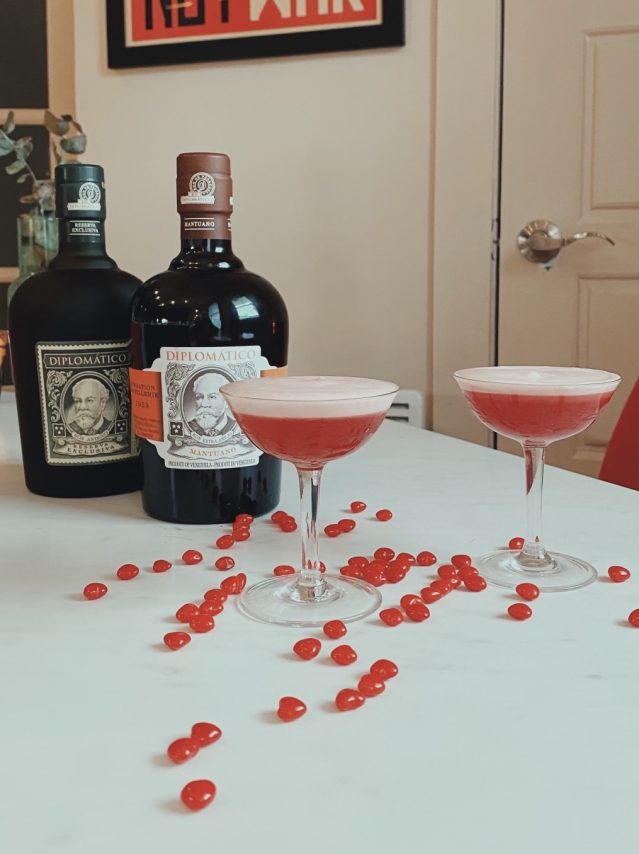 Photos and Recipes courtesy of Diplomatico. To learn more about this delightful rum visit the Diplomatico website for additional recipes and information.
For additional cocktail recipes check out the following: