Madrina Tapas occupies a unique space, it's an old grain mill in the Distillery District with stone walls. This heritage building gets a lift with a Catalonia-inspired design using terracotta tiles and tons of wooden details including mahogany arches, wood beamed ceilings, decorative sculptures, and light fixtures.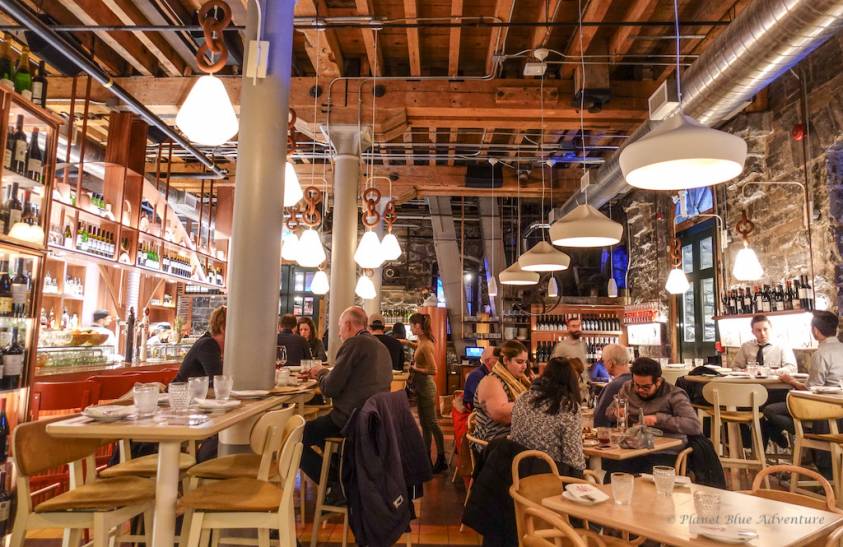 Wine is displayed along the walls on shelves fitted with white panels of modern art, line drawings created by artist Mattea Perrotta.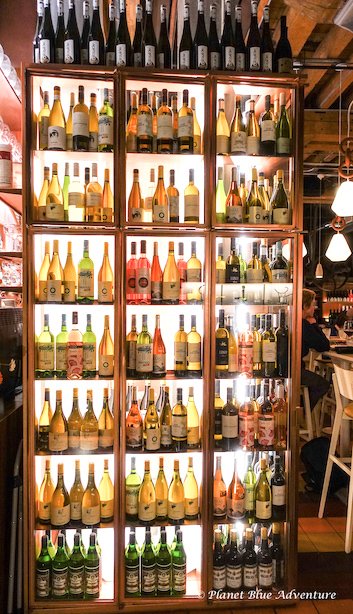 Chef Ramon Simaro heads the kitchen bringing experience gained from some of Spain's top kitchens (some Michelin-starred). Using authentic Spanish flavours combined with innovative new techniques, Catalan chef Ramon is creating incredible Spanish dishes including classic tapas like Iberico Ham Croquets.
Simaro uses imported ingredients integrated with seasonal local produce to produce his inventive whimsical menu. Part of the menu consists of cold plates prepared at the bar (seen displayed in glass cases on the bar).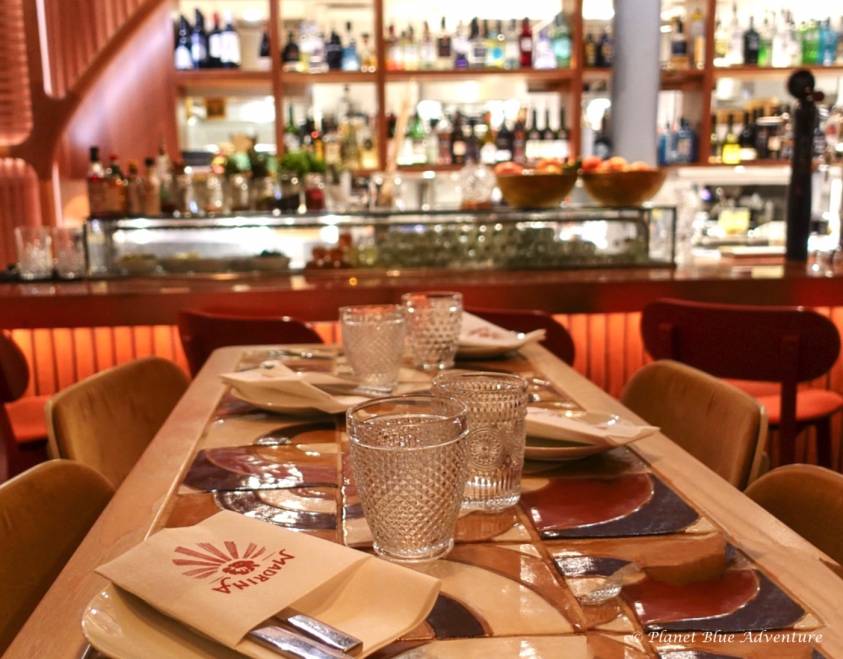 What's On Madrina's Menu
The menu is divided into nine sections, hot plates and cold plates prepared at the bar which include Spanish cheese, Iberian hams and pintxos (open-faced sandwiches).
Drinks
Madrina has an extensive selection of gins (responsible for some of the best G&T's in TO), sangria by the pitchers and a selection of (exclusively Spanish) wines, all can be enjoyed at the 37-foot long stone bar.
Cocktails by the beverage manager are creative; one standout drink is the Spiced Margarita with tequila and blue curacao with charcoal ice cubes floating in the drink.
Madrina's Lunch Menu features salads and sandwiches such as; a chicken and Manchego Cheese and Seared Yellowfin Tuna salads and Pepito de Ternera (grilled steak sandwich with piquillo pepper ratatouille) and Madrina Ham & Cheese ( Jamon Serrano, Manchego cheese & arugula) sandwich. You can also order from the all-day Tapas menu.
The Dinner Menu features a long list of Tapas plates. With so many choices its best to order a few sharing plates.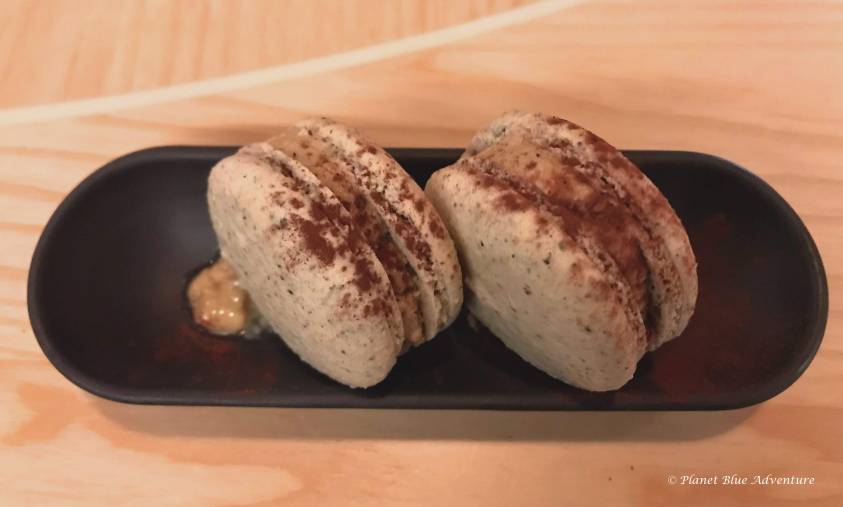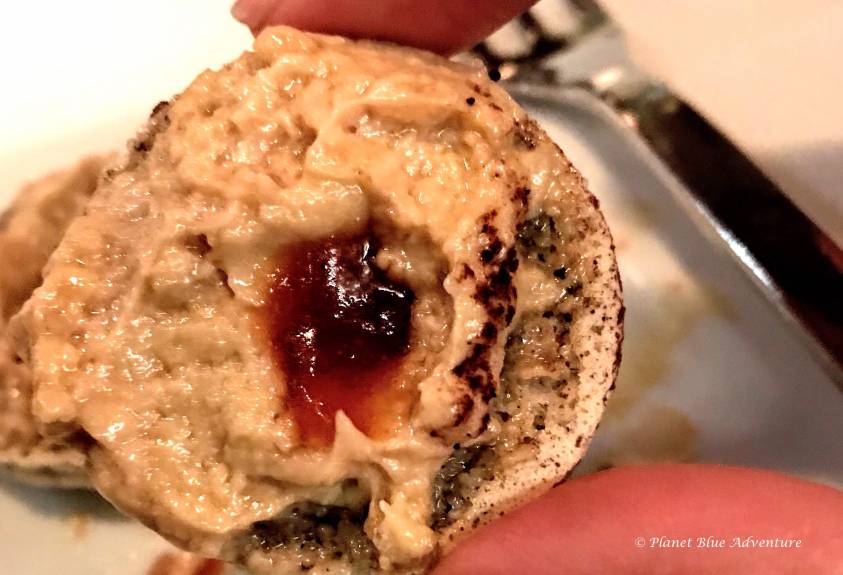 Madrina offers a taste of Spain in Toronto, so go check it out and during the summer months an outdoor patio will be open.
Save this post for later – Pin It
Information:
Madrina Bar y Tapas, 2 Trinity Street, Toronto, Phone: (416) 548-8055. Madrina is open 7 days a week, please check website for exact hours.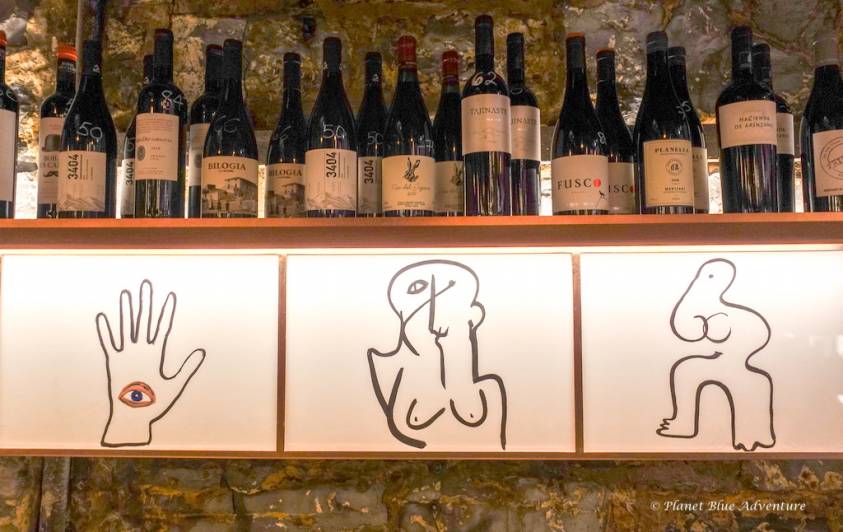 Read about Toronto Attractions nearby:
5 Tips For Visiting Toronto's CN Tower
Ripley's Aquarium of Canada – Tips for Visiting
NOTE: I was hosted by Toronto Tourism but all opinions expressed in this post are my own.