Landmark Building has Housed the Market for Over 200 Years
St. Lawrence Market, the largest indoor market in Toronto, was named the "world's best food market" in 2012 by National Geographic and attracts one million visitors a year. The historic building is a city landmark and has been the market's home for over 200 years. A converted train station, from 1834 to 1844 it was temporarily used as Toronto's first City Hall.
Located at Front and Jarvis, the south building is home to a wide variety of vendors spread over two floors. The array of products displayed is a feast for the eyes, nose and taste buds. Here you'll find fresh seafood, cheeses, fruits and vegetables, cafes and baked goods. Every Saturday, the north building is flooded with farmers who bring farm fresh produce and baked goods to this downtown location. On Sundays, it becomes home to a variety of antique dealers selling one-of-a-kind items, including vintage jewelry.
The Market isn't just for shoppers; it's a destination. A place to wander, have lunch, and people watch; tourists come to take in the atmosphere and have lunch, locals to shop and grab a coffee, and charming, colourful vendors chat with each other and guests. It is a veritable patchwork of personalities.
North Market
The North Market is a must for locals; open on Saturdays, shop for the freshest organic produce and meats. It's much less crowded than the South Market.  Shoppers will find Ontario fruits and vegetables, dairy, olive oils, honey products, fresh herbs and flowers, and even Mennonite sausages and elk meat.
Colwell Farms are in here year-round and have been since 1929. Raani Foods have prepared Indian dishes like samosas, naan bread, curries, chutneys and other delightful treats. Personally, I can't bear to leave the building without Ali's cinnamon buns, the best.
On Sunday, this building houses the Antique Market, where you can discover unique one-of-a-kind items or vintage jewellery.
The South Market
You'll find a fascinating array of products on the lower level of the building. Here you can buy specialty items like premium chocolates from Canada and Europe, homemade condiments, herbs, oils, caviar, foie gros, fruit and vegetables, coffee and teas, pashmina shawls, and novelty items.
The Market is a foodie's paradise. The aromas coming from the various food vendors will whet your appetite. There's a choice of international dishes; Ukrainian-based foods at European Delight, souvlaki or mousaka at Yianni's Kitchen or Yip's Kitchen if you're in the mood for Chinese. You'll find prepared Japanese and Korean dishes or freshly prepared lasagna to take home for dinner.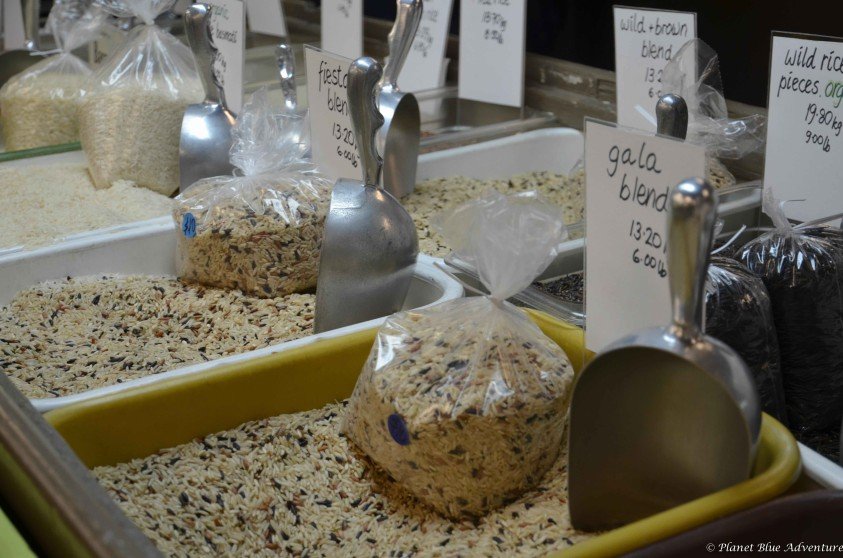 The street level is home to many butchers and fishmongers. Brown Brothers is the oldest Market butcher, offering quality meats since 1895. Upper Cut Meats have a complete line of beef, pork, lamb and poultry.
The Sausage King has a wide variety of fine-smoked and cured sausages.
If seafood is on your list, you will not be disappointed; there are several places for fresh or frozen seafood as well as live crab and lobster.
A market is not complete without cheesemongers and here you'll find some of the best. Olympic Cheese Mart has one of the widest varieties of cheese imaginable.
A Market must, is the Carousel Bakery, for an award-winning peameal bacon sandwich, a brunch staple for a lot of Market shoppers. You can also pick up speciality teas, coffee, nuts, pasta and sauces on this level.
If you've shopped all morning and need a lunch break, you can't beat Buster's Sea Cove for their fish and chips or lobster bisque.
There are so many lunch options, including Paddington's, where you can relax in a sit-down, licensed restaurant.  Before leaving the market, stop by St.Urbain Bagel and pick up a bag of Montreal-style bagels.
There are too many beautiful products and vendors to cover here, but a complete list is available on the St. Lawrence Market web site. The South building is closed on Sundays and Mondays.
Location: 
92 – 95 FRONT ST EAST – Toronto, Ont
Telephone (416) 392-7219
Hours: 
South Market:
Tuesday – Friday – 9am / 7pm
Saturdays – 7am / 5 pm
Sunday – 10am / 5 pm
Note: This was a collaborative post with my foodie friend Maureen Dahl.