The Arlington Virginia Food Scene You've Never Heard About and Should Check Out
When one mentions Arlington Virginia, what comes to mind for most is the world famous Arlington National Cemetery which houses those who served in the Armed Forces.  However, there is so much more to this area, which is just a stone's throw from Washington, D.C. Did you know it is home to one of the largest millennial populations in the US? That means there's great food to devour as we all know that millennials love dining out. Best of all it's a little kinder to your wallet than its pricey neighbor, Washington DC.
It may surprise you that Arlington Virginia has every kind of restaurant imaginable, from Spanish to Baltic, Middle Eastern and let's not forget the handcrafted Ice cream.
Next time you are heading to Arlington Virginia, enjoy the multi-cultural food scene and check out these local favourites:
Ambar
This tapas style restaurant will give you a taste of the Baltics with traditional Croatian dishes. They have a few options for all you can eat, from the express lunch to the brunch, so be sure to pack an appetite.
If you are just looking for a quick bite, you can also order a salad or another plate a la carte off of the menu. Don't let the all you can eat tag fool you, Ambar uses only the finest ingredients from local organic farms. Try their delicious Stuffed Pepper, Balkan Kebabs or the Balkan Salad.
Lebanese Taverna
Lebanese Taverna features everything from hummus to grilled meats and fish. Located in the Pentagon Row shopping area, this dining spot is the perfect stop for lunch or dinner.  Family owned and operated since 1979 by the Abi-Najm family, who originally served pizzas before expanding to include Lebanese dishes. Try the Hummus Trio, from the Hummus Bar, which includes spicy hummus with tomato and feta, garlic hummus with chicken shawarma and veggie dippers served with pita bread.  A perfect sharing plate before you dig into popular main dishes of Traditional Lamb Sharhat or Salmon Harra (grilled salmon fillet, roasted vegetables, bulgur pilaf).  No matter what you order at the Lebanese Taverna you won't be disappointed.
Bayou Bakery
Get a taste of the Big Easy right in downtown Arlington. Bayou Bakery keeps southern traditions alive and well with their selection of New Orleans delicacies like Beignets and traditional southern fare like biscuits and gravy and Pimento Cheese Sandwiches.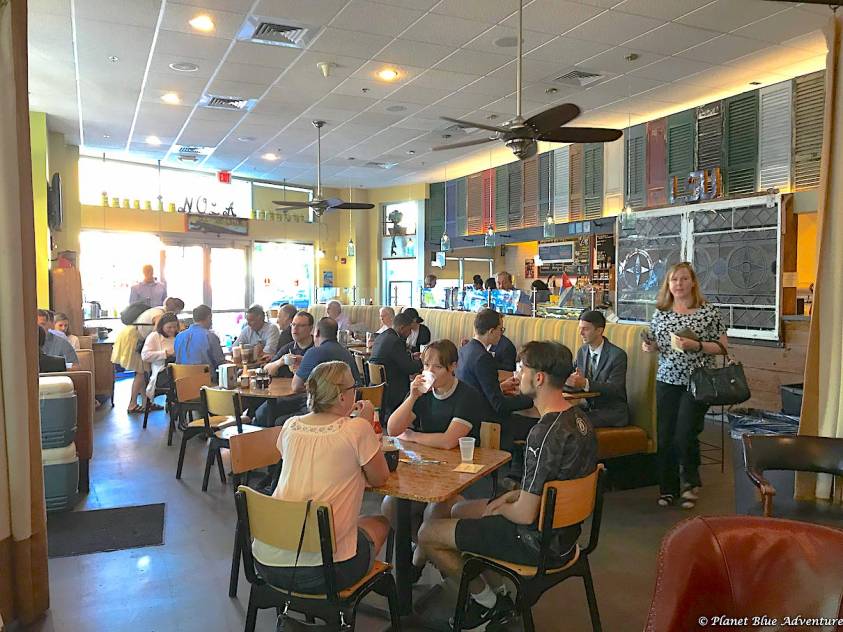 Bayou Bakery is a great stop for breakfast, brunch or lunch, but they also have a wide array of pastries and other goodies to go like Croissants, Pain de Chocolate and more. While there don't forget to check out the power brokers that stop in for a bite.
Jaleo Crystal City
From the man credited with making tapas mainstream in the United States, Jose Andre's doesn't disappoint at Jaleo Crystal City. The largest restaurant in the chain, the high ceiling, and ambiance at Jaleo, is second to none. Beautiful small plate meals and an impressive cocktail and wine menus greet you and delight your taste buds. Be sure to try the Endibias con queso de cabra y naranjas (Endive and Goat Cheese Salad), Dátiles con tocino 'como hace todo el mundo' (fried bacon wrapped dates) or the Rossejat de fideos.
Before you head out of town, no visit to Arlington would be complete without satisfying your sweet tooth with a quick stop at one of these tasty places:
Artisan Confections
For the chocolate lover, stop by Artisan Confections where they specialize in high-quality, hand-made, small-batch chocolates that will tantalize your taste buds – think Affrogato! They aren't only pretty to look at but delicious as well. They use only the best ingredients to make their chocolates from mint grown locally on a Maryland farm to French Valrhona chocolate. Be sure to grab one of their delicious barks, chocolate assortments or their delicious hot chocolate mix.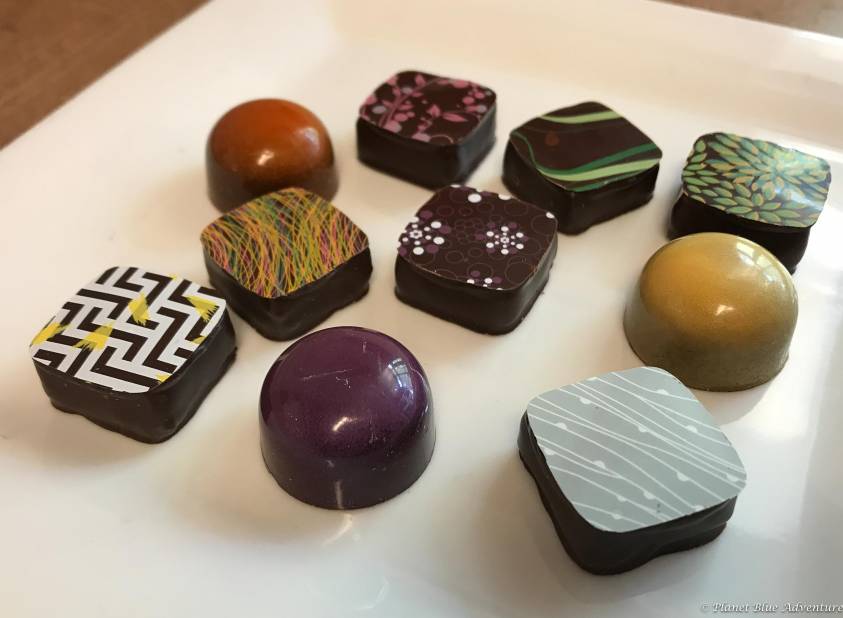 Nicecream
You can't go wrong with a scoop of ice cream made right in front of you.  You can't get ice cream any fresher than this. Nicecream takes local grass-fed cream and combining locally sourced ingredients and freeze the ice cream on the spot using liquid nitrogen. The menu varies seasonally, so be sure to check the flavor menu on their site. Don't worry, you can still get your favorites like Chocolate and Vanilla all the time.
As you can see there are so many places to try on your next trip to Arlington Virginia.
Save this post for later Pin this
Have you eaten your way through Arlington's food scene? Share your favorite restaurant below!
Like this post? Then read about where to eat in Concord, New Hampshire